Neptune Maritime Security Certified to ISO PAS 28007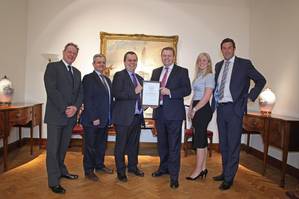 Neptune announce that it has been certified by Lloyd's Register Quality Assurance (LRQA) to ISO PAS 28007. The PAS, as part of the ISO 28000 family of security standards, gives established guidelines to private maritime security companies (PMSC) providing armed guards to ships. Certification to the standards demonstrates to clients and stakeholders that Neptune Maritime Security and its operatives can legally, safely and effectively guard their people, assets and reputation having undergone a rigorous and internationally recognised process.

The company has been heavily involved in the development of the PAS from the initial writing of the base document MPSC1, technical advice to the ISO as a member of BSI SME 32 and as an active member of the UK Governments industry partner the Security in Complex Environments Group.

The company was selected as part of the ISO PAS 28007 UKAS Pilot Scheme, especially working with LRQA who are recognised as being a leader in quality and security management standards by the shipping community.

Carl Sykes, Neptune's Managing Director said, "The award of this certificate is the result of several years of hard work by the company to establish regulations and accreditation processes in the maritime security industry. We are extremely pleased to become one of a handful of companies certificated to this level and it reflects the company's belief in core competencies and a rigorous approach to vetting."

Certification Bodies are awaiting the UKAS Pilot Scheme results before the fully accredited ISO PAS 28007 certificates can be issued to PMSC.

Neptune Maritime Security was founded in 2009 by former members of the U.K. Special Boat Service and provides specialist Risk Management and Security solutions tailored to the safety, protection and well being of the international maritime community.
Feb 10, 2014