New Venture Aims to Uproot Shipping's Status Quo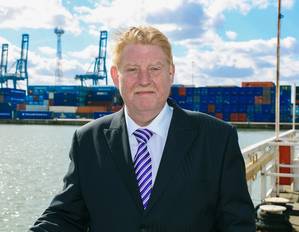 Former Inchcape Shipping Services (ISS) CEO assembles senior team for launch of Nisomar, a data-driven maritime services company
With a belief that innovation in shipping has fallen well behind other sectors, new entrant into the maritime industry Nisomar has launched a range of services for ship owners, operators, brokers, charterers and financial institutions.
Nisomar said it has pioneered a method of collecting global shipping data and created proprietary technology, based upon technology that generates highly accurate business-critical data. The firm will derive insights from big data to offer analytics that support business decisions, transformational management consultancy, and port call services covering all key regions.
From a port looking to improve its efficiency, to anyone in the maritime sector wanting to become more efficient, for example, by providing key data covering the voyage rather than last minute adjustments shortly before arrival or departure, the benefits of this technology, especially when combined with Nisomar's other services, are enormous, the company believes.
Captain Claus Hyldager, Chief Executive Officer of Nisomar, said, "We've assembled a formidable team of highly experienced maritime, supply chain management and technology professionals. Based on our personal experiences and feedback from large and small companies, it is our collective belief that shipping is overly inward-looking, and ripe for change. Unsatisfactory margins and many organizations' inability to respond quickly enough to an ever-changing world is for everyone an unsatisfactory status quo."
"New technology will give the maritime sector access to a wealth of business-critical data, including critical vessel data, trade flow and cargo availability, port congestion, vessel line up and turnaround efficiency," Hyldager said. "However, Nisomar is founded in the knowledge that it is only when innovative data analytics are coupled with insightful, strategic consultancy and sector-leading logistics management services, that the success of ship owners, managers and operators worldwide can be more fully assured - besides those key employees looking after clients at ports across the globe."
The Nisomar launch team includes Jon Bumstead, who led software business ShipNet, until its sale in March 2017, and Jesper Steenbuch who has held leadership positions at major maritime companies including A P Moller-Maersk, Seven Seas Group and Wave Shipping. Other founders include Matthew Phelps, who has held senior management positions at global organizations including Ford, Wincanton and Deutsche Post (DHL), Dick Shane who has more than 35 years' experience in the marine sector and Deborah Phelps who has experience in logistics, supply chain and maritime including DHL Exel Supply Chain.
The company is also represented internationally, including Jaime Otero, former Executive Vice President for South & Central America at ISS and Lars Westerberg, former Regional Director Americas for Seven Seas and Managing Director of Wallem Americas.
"The last significant innovation in the maritime sector was the introduction of the ISO container - in the 1950s. It's time for new thinking and we're poised to implement radical transformation," Hyldager said.
The Nisomar leadership team

Captain Claus Hyldager
Hyldager has worked in the maritime sector for more than 35 years and has unparalleled experience in driving innovation in the industry. He served as Group CEO for Inchcape Shipping Services from 2006 until 2015, and oversaw the overall operational and financial performance of the group's worldwide activities. Hyldager spearheaded the expansion of Inchcape Shipping Services which led to it becoming the World's Largest Port Agency & Marine Services Company.
Jon Bumstead
Bumstead is a leading technical innovator and, between 2012 and 2016, he served as Chief Technology Officer for a maritime services company. His responsibilities included leadership of ShipNet, a software business, which significantly improved its bottom line performance under his guidance. Previously, he has held other senior management roles at a range of global logistics companies, including DHL and Exel, and he is also of one of the founders of The Neutral Group. Bumstead played a key role in establishing global supply chain practice for food retailers, consumer products manufacturers, oil majors and global automotive companies, whilst working at Accenture between 1991 and 2004 as a management consultant.
Jaime Otero
Otero, a transport engineer with a post degree in business and administration, has more than 29 years' experience of working in the maritime sector, most recently managing 42 offices in seven countries, with a total headcount of almost 500 people, in his role as Executive Vice President for South & Central America for a leading maritime services business. His responsibilities included providing overseeing and delivering exceptional service across all business streams, including cargo services (logistics), maritime services and government services.
Dick Shane
Shane has more than 35 years' experience in the marine sector, overseeing the smooth running of operations and, in 1995 he qualified as a Chartered Shipbroker in the Institute of Chartered Shipbrokers. From 1998 until 2008, he served as Inchcape Shipping Service's Global Operations Manager (Hub Services), overseeing the management of global and regional clients. He was also an integral part of the team responsible for the development and implementation of the web platform known as YourISS.
Jesper Steenbuch
Steenbuch has spent more than 25 years in the Maritime Industry, during which time he has held various international executive and leadership positions at major maritime companies including, A P Moller-Maersk and Seven Seas Group. He was co-founder of Wave Shipping, which he sold in 2014. Over the years, Steenbuch has dealt with major customers from different market sectors, such as oil and gas, wind, shipping companies, navies, military and NGOs, covering a variety of industry areas including, shipping, offshore, logistics, port agency and retail.
Lars Westerberg
Westerberg started his career in the maritime sector working for the largest refinery in Scandinavia, and has in total more than 35 years' experience. He has a track record of producing exceptional growth, including for Inchcape Shipping Services' Americas region, where Lars was instrumental in delivering a major expansion of operations, increasing the total number of offices from 34 to 43. Westerberg has also served as an Independent Surveyor and Calibration Engineer in the Middle East and North Africa, and held other senior roles within the industry.
Matthew Phelps
A graduate of Loughborough University of Technology, Phelps has 30 years' experience in logistics, supply chain and maritime. He has held senior management positions in several global organizations, including Ford Motor Company, Wincanton and Deutsche Post (DHL), and has significant international and multi-cultural experience, particularly in Europe, North America, Middle East and Africa. He specializes in implementation, turnaround and transformation programs, and influences at the highest levels of business and government with his fluid communication style which engages all stakeholders.
Deborah Phelps
Phelps has 13 years' experience in logistics, supply chain and maritime. She worked within finance and business solutions at Inchcape Shipping Services for eight years and in operations at DHL Exel Supply chain. Phelps is also co-founder and Director of LBN by Phelpsey Ltd. She has broad experience across many other sectors as a business analyst/project manager and consultant on a global basis. She has developed business process and analytics for existing or new platforms across the shipping and downstream energy B2B and B2C sectors. She has also implemented significant change programs, driving accuracy and practicality whilst engaging all stakeholders at all levels.
Apr 20, 2017